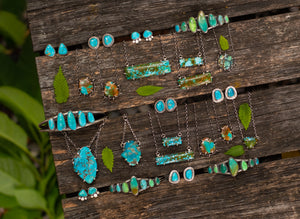 Vibrant Handcrafted Jewelry
From hand sawn pine silhouettes to curated stones, every detail matters.
Natural Stones to Mirror the Seasons
Curated to reflect the glorious landscapes of New England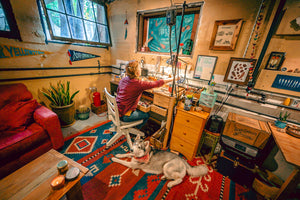 A one-woman-show crafting pieces in silver & stone, imbued with my love for the outdoors.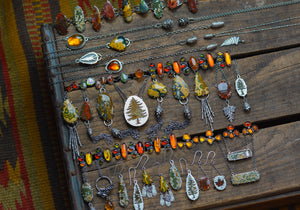 Inspired by the wilderness
Handcrafted jewelry inspired by the colorful landscapes of the backcountry
Kind words:
So beyond thrilled to have been able to snag this ring! I've been wearing it everyday since I got it. All snuggled up in between two other turquoise favorites. Such amazing craftsmanship ~ Laura is such a sweetheart. So happy to support!

Chloe
I always feel like I am the luckiest when I can snag something from Laura's shop updates! This ring houses one of the most magical Mexican Opals I have ever seen. I can't stop gazing into it's world. Also, the ring itself is so well made. Love supporting this bad ass lady!! 

Mandy
Soooo pleased with the latest creation! I purchased this beautiful piece for my daughter Emily's birthday and she literally shouted for joy when she opened her gift! Beautiful craftsmanship and obviously made with loving care. Thank you Laura!!

Cindi
Oh my gosh Laura! I am so happy. Just genuinely happy and grateful. These ear jackets are so beautiful and make me so excited for my wedding day, I can't even put it into words that truly express it. Thank you so much from the bottom of my heart. These beauties are for sure getting passed down to my future babies, just like I hoped. 
I am so happy that I was able to snag a pair, especially after experiencing how quick people are to purchase her work! I wear these earrings basically everyday! I love looking at pieces that Laura has created through her posts on Instagram, and look forward to future purchases!

Sophia
I love these ear jackets! They are comfortable enough to wear all day. The color combination is fantastic! I had to edit this review to add that when I wore these to work the other day, my supervisor told me she wanted me to leave them to her in my will. That's her way of saying how much she loved them - but she'll have to pry them out of my cold dead hands!

Larissa
Love, love, love!!

So beautiful! Thank you so much!! I have been trying to get a piece of your work for so long and I was able to get two!! Was def doing the happy dance.

Donna
When I saw it, I said this is it. This is exactly how I feel when I'm out in nature doing what I love. How Laura was able to convey my deepest and closest feelings without even trying is beyond me. Her work is stunning, high quality and made with precision and love. I haven't taken the ring off since I received it. I am so overjoyed to finally own one of Laura's work and will definitely be back for more!
I love this ring! I had been looking for some Mexican Fire Opal jewelry and was beyond excited to see something in The Wild Pine shop! I have always wanted something made by Laura but her jewels sell out so quickly. The ring fits great, the twig band is adorable, and I love staring into the sparkly part of the opal! Also, the packaging was lovely. Thanks so much Laura!

Kimberly
A Glimpse Into
The Wild Pine Story
The jewelry I create is inspired by the vibrant, colorful landscapes of the backcountry, shaped by my own experiences of finding adventure and solace in the flora and fauna of the wilderness.
Read More >